Choose-and-cut Christmas trees at Barry Farms will be available for harvest starting in 2020. We hope you'll come back each year to see the growth of our trees and share the anticipation of our first harvest with us.
Pre-Cut Nova Scotia Balsam Christmas Trees
We currently sell only the highest quality pre-cut trees. Select from among various sizes of pre-cut, fresh and gorgeous Nova Scotia Balsam Christmas Trees.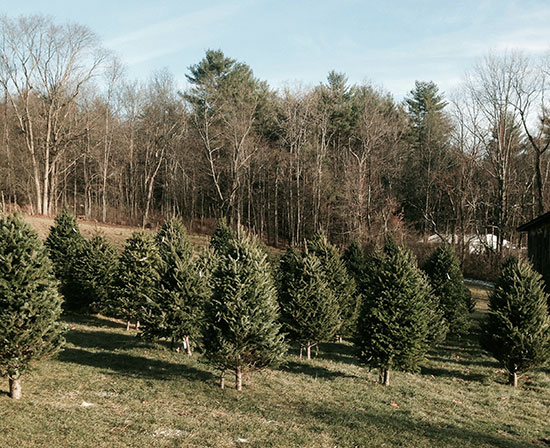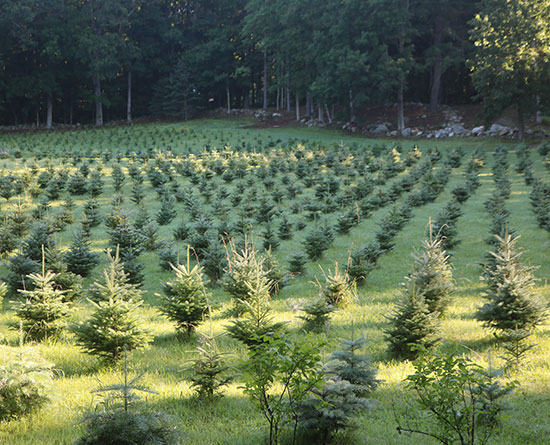 The Story of Our Christmas Tree Farm
In 2013, I was with my then-fiancé, Tammy, when we first saw the somewhat neglected, 14-acre property for sale in Harwinton, Connecticut. But the land had potential – just enough flat and gentle slopes facing the right way for young trees to get a start – and the old 1800s farm house which stood on it was solid, with a good roof and gorgeous wide-board floors.
Two months later, on a cold wet day in March, we moved in. Our plans for that year were ambitious: plant 1,200 Christmas trees by May, and have our wedding in the property's tiny red barn by October. It was a successful year!
Though it might not seem so, it was a long journey from Litchfield, CT, the place where I was born and raised, to the quaint town of Harwinton on its eastern border.
My Dream of Growing Christmas Trees
I grew up dreaming of having a Christmas tree farm, an ambition sparked by my family's outing to a local tree farm one year when I was five. The joy of Christmas seemed to live right there on that farm: a perfectly symmetrical arrangement of thousands of trees. Up close, each was a unique miracle of nature and man, with its own distinct pattern of branches and needles. From a distance, the farm was a dazzling green matrix set against a white canvas of snow. I knew I would plant my own tree farm someday.
When I got older, my parents showed me how to make holiday wreaths, and this, too, became part of the joy of Christmas for me: making wreaths for relatives and friends throughout the season became my passion.
The realities of life, for a time, got in the way of growing trees and making wreaths for a living. But sometimes the road forks unexpectedly and your dream is right there waiting for you.
My fork came when my wife and I were dating. I was a full-time landscaper and feeling like perhaps my opportunity to start a Christmas tree farm had long-since passed. But Tammy shares my love for nature and the farming life, having spent nearly a decade running a ranch in Montana. Together, we decided to take a risk and make a life together at Barry Farms.
Caring For Our Christmas Trees
Since then, we've cleared a lot of land and planted a lot of baby trees. We constantly scrutinize for insects and worry obsessively about the slightest tinge of less-than-vibrant-green color in the trees.
The drought of 2015 and 2016 was especially harrowing, but we were lucky to be able to set up a manual irrigation system to keep the most vulnerable ones alive.
It's hard — but deeply satisfying — labor to plant the trees on time, and keep them healthy and properly pruned through the seasons and the years. Our dogs, L.D. and Holly, do their part to keep any ravenous deer away.
By 2020 our first crop of trees should be ready to sell.
My wife and I invite you here this season (dogs are welcome, too!) – perhaps for one of my hand-made wreaths from local greens and a pre-cut balsam tree fresh from Nova Scotia. By 2020, we'll have our own Barry Farm-grown balsams, along with other varieties like concolor, canaan, fraser and spruce.
We wish you and your family a Merry Christmas this year and every year!
– Robert Barry, Co-Owner